Respected and Renowned Oncology Experts
Jenny Bogle—Ovarian cancer patient London, England.
"I recommend using CANCER PANELS for any patient who has a very complex illness and faces important questions on the best next steps in their options and treatment."
John Hutchins—Founder
PinnacleCare, Private Health Advisory
CONTACT US TODAY IN
STRICTEST CONFIDENCE
Call: 703-919-9945 (USA)
Email: jmartell@cancerpanels.com
The panel greatly improves ability to obtain the most appropriate treatment at an EARLIER stage.
A personalized panel can usually be set up within just a few weeks or less. At the panel, doctors review and discuss the individual's cancer case which typically lasts about 2-3 hours. At first, panelists review the cancer patient's medical history, radiological imaging scans, pathology and results of any molecular and sequencing tests. Following the review, the panel discusses various treatment and research approaches, both conventional and novel, advanced chemotherapeutic drugs and biologics as well as accessible clinical trials that are available to the treating physician. After the panel, the cancer patient's treating physician is advised of the panel's consensus treatment recommendation. The panel reconvenes again at a future date to review the cancer patient's progress and other developments and, at that time, makes additional recommendations that may be necessary.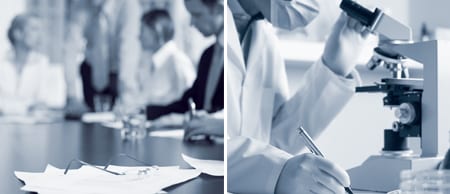 The panel is chaired by Dr. David Sidransky, consultant to the Company. He is considered to be one of the world's leading cancer authority and the premier investigator in the field of molecular diagnostics, targeted therapies and individualized patient treatments.  Dr. Sidransky is a Professor of Otolaryngology, Head and Neck Surgery, Oncology, Pathology, Urology, Cellular and Molecular Medicine and the Director of the Head and Neck Cancer Research Division at Johns Hopkins University School of Medicine in Baltimore, Maryland.  He was profiled in TIME magazine as one of the top physicians and scientists in America and is one of the five most highly cited oncology researchers in clinical and medical journals in the world during the past decade.
We have held well over 100 panels in many different types of cancers. About half of our panels have been held for patients in the US with others from England, Europe, Russia, Middle East, South Africa, Canada, Mexico and South America, among them a number of VIPs and high government officials.
CANCER PANELS are totally different from tumor board panels which every cancer hospital holds on a weekly basis to review their cases. There, they usually have only experts from that institution who spend little time on one case as they have many to review. CANCER PANELS, on the other hand, brings together top experts in the world to discuss only one case for 2 to 3 hours where treatment recommendations are independent of any treatment bias from any cancer institution.
We encourage cancer patients and their families/friends to obtain as many opinions as they feel necessary. However, there are many leading cancer experts and prominent cancer institutions for a given disease. Furthermore, leading experts may provide conflicting and divergent advice regarding the specific recommendations for an individual's cancer treatment.
Additionally, this process of gathering opinions from various places is quite time-consuming and TIME IS THE MOST PRECIOUS COMMODITY WHEN IT COMES TO FIGHTING ADVANCING CANCER.
The real advantage and essence of our panel is that it bypasses this time-consuming process and quickly gathers renowned cancer experts in a forum where options are fully debated until the panel provides the cancer patient's treating physician with a consensus treatment recommendation. This maximizes the options available to the treating physician and greatly improves cancer patient's ability to obtain the most appropriate treatment at an EARLIER stage.