Access to world leading cancer physicians
Jenny Bogle—Ovarian cancer patient London, England.
"I recommend using CANCER PANELS for any patient who has a very complex illness and faces important questions on the best next steps in their options and treatment."
John Hutchins — Founder
PinnacleCare, Private Health Advisory
CONTACT US TODAY IN
STRICTEST CONFIDENCE
Call: 703-919-9945 (USA)
Email: jmartell@cancerpanels.com
We provide expert physician conferences devoted solely to the individual cancer patient.
CANCER PANELS organizes and administers, within just a few weeks or less, expert personalized cancer panels (conferences) for individuals diagnosed with cancer. The panels are comprised of some of the most respected and renowned oncology experts (five to ten or more) in a unique Zoom video forum devoted solely to the individual cancer patient. CANCER PANELS is the only entity or organization in the world that presently provides this most distinct and unique service and the highest level of expertise and insight for cancer patients. 
The panels maximize available treatment options that can be accessible to the cancer patient's treating physician. This greatly improves their ability to obtain the most appropriate treatment at an EARLIER stage. These cutting-edge treatment options are based on the latest state-of-the-art medical knowledge, that includes not only standard and novel therapeutic approaches, but current, yet unpublished, information including upcoming investigational therapies and new clinical trials. Many panelists are also principal investigators in leading clinical cancer trials, so those options are also on the table.
The goal of a panel is to gain time and quality of life for the patient. Medicine is currently advancing by the minute, and it is a realistic hope that within this extra time that a panel could provide, the latest promising treatments and therapies on the horizon may become available.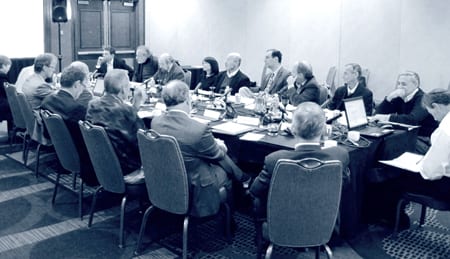 The panelists come from many of the world's leading cancer and medical centers such as: M.D. Anderson, Memorial Sloan-Kettering, Johns Hopkins, Mayo Clinic, Dana-Farber/Brigham and Women's, University of Washington, UCLA, University of California at San Francisco, Duke University, University of Chicago, Yale, Harvard, Cleveland Clinic, Northwestern, Thomas Jefferson University and others including institutions from the UK, Europe, and Asia.